Kevin and Laura have been living full-time in their Winnebago motorhome since September of 2016. They love showing people how to be vegan anywhere! They've been from Florida to the Canadian Maritimes to the desert southwest to Alaska to Baja, Mexico, and back. You can follow their adventures more closely by following VeganRV on Instagram, Facebook, Twitter, and Youtube. You can also connect with them on GAFFL!
Why We Started Traveling Around In An RV
We decided to get an RV after a trip to Yellowstone. It was March and we went snowmobiling through the park where we saw bison, Old Faithful, and the other hydrothermal features.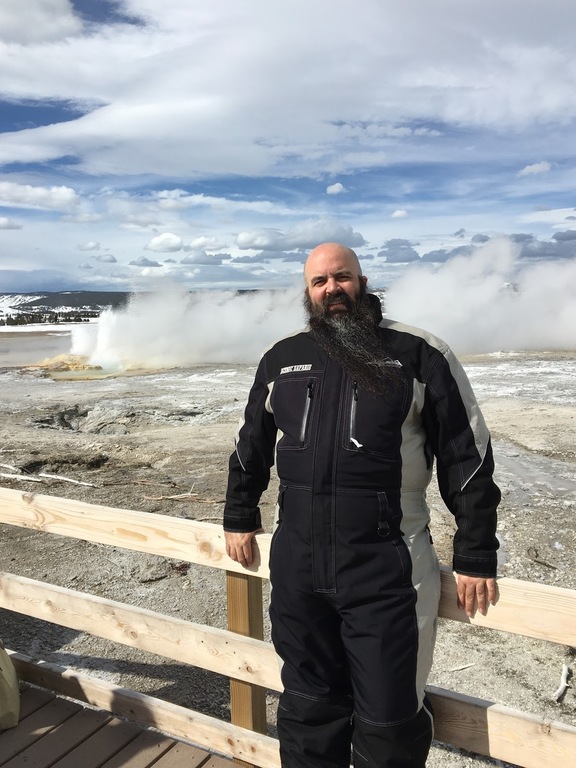 We had been considering international travel but then decided that maybe we should spend some time exploring our own country. We bought an RV less than a month later. And 6 months later we were living in it full-time.

Currently, we have no plans to stop. We may get a home base for part of the year but we have no interest in living in one place all of the time.
Benefits of RV Life
RVing can be fairly cheap or quite expensive. It really depends on your lifestyle and requirements. We are not particularly frugal.
One advantage of traveling in an RV for us is that we drive around our own kitchen. So we don't have to rely on there being suitable restaurants with vegan options in the places we visit.
Another timely advantage is that our unit is self-contained so we have complete control over our environment as we travel. It's the best way to social distance while still being able to travel.
Should You Buy Or Rent?
We bought our RV used. Like cars, RV prices can range quite a bit. You can get a $10,000 towable or a Prevost for $1,000,000+.
Personally, we think that you are better off buying a used RV. You won't take the depreciation hit, for one. And because RVs are fairly complicated, even new ones will usually have problems requiring warranty work. This means your new RV can be in the shop for months at a time. If you buy your RV used, the previous owners have usually worked out all of those problems.
If you can afford it, renting different types of RVs might be a good idea before you take the plunge and buy one. Renting can be expensive though You can also get a good idea of what you might like from visiting large RV dealerships, going to RV shows, and watching RVers on YouTube.