In the 21st century, most aspects of our lives have been digitized in some way or another. This is due to groundbreaking advances in technology over the years. Therefore, it is not a surprise that the professional world has taken advantage of the digital age to adapt itself accordingly. Latest technology is used to boost work efficiency, speed up operations, form broader connections globally and enhance creativity. With the rise of acclimatizing technology into professional life, there has also been a significant increase in the number of 'digital nomads'.

In simple terms, a modern nomad is a person who moves from place to place and does not have a permanent home. The digital version of a nomad is someone who uses technology and the internet to work independently from anywhere in the world. With it quickly becoming one of the fastest growing lifestyles of the last decade, digital nomads must be able to handle modern technology with competence and professionalism. With the correct set of applications and websites, working remotely and while traveling across the globe can be made much more organized, efficient and productive!

GAFFL
An acronym for Get A Friend For Life, GAFFL is an innovative travel website. It acts as a matchmaker to help you find a travel buddy for your next trip or adventure.
Creating social networks across the globe is quite beneficial and necessary for a digital nomad, and GAFFL allows you to do precisely that. It also helps you to make your work trip less stressful and lonely by providing you with a travel partner who is compatible with you and the purpose of the trip. There is also the extra advantage of saving on costs with a travel buddy, since expenses will be split between you. Being in a new place can prove to be nerve-wracking, which may lead to less productive and efficient work.
With GAFFL, you will always be able to find someone to accompany you and make your trip more congenial and relaxing.
Trello
A project management app is a necessity for a digital nomad, whether you are working with a remote team or an outsourced staff. Trello helps to organize, and plan projects, keeps track of progress and eases communication between team members. According to its description on the Play Store, it is "customizable and flexible for your every need", making it easier to use and modify to best suit the requirements of the project.
Trello also works offline, so if you are someplace without network, then you can add information to your boards and cards, and it will be saved for when needed. Asana is similar project management and team communication app with slightly different features than Trello. Both apps are available for both Android and iOS so they can be used in almost any device!
Android Play Store Rating: 4.5/5
Apple App Store Rating: 4.7/5

Evernote
Evernote is a digital notebook and planner, providing much more functionality than your average pen and paper. This practical app allows you to type notes, attach images and audio, set reminders and even 'scan' handwritten notes. Thus, it helps you to organize all your information, to-do-lists, documents and plans under one very useful roof.
A very helpful feature which allows Evernote to stand out is that it will automatically sync your notes between your signed in devices, making your work more efficient and well-regulated. This app is also available across both Android and iOS platforms.
Android Play Store Rating: 4.5/5
Apple App Store Rating: 4.5/5
XE Currency
XE Currency is a very practical app for live currency conversion. It provides reliable currency exchange rates from all across the globe, allowing digital nomads to compare prices anywhere in the world and produce a travel budget accordingly.
The team behind this app is currently developing a new feature which allows international money transfers, which will make XE Currency even more useful in the future. This app is available for both Android and iOS users.
Android Play Store Rating: 4.3/5
Apple App Store Rating: 4.6/5
Canva
Canva is a nifty tool website, helpful for those with limited graphic designing skills to create sophisticated presentations, infographics, brochures and other graphics needed for any project. The website has an extensive library of templates, designs and stock images, almost all of which are free of cost. Its simple user interface makes it easier for amateurs to develop their designs. You can sign up and create your own account for free using either your Google account, Facebook account or email address.
Headspace
Headspace is not a conventional organizing or communications app, however, it is just as important as any other productivity apps. It goes without saying that you will be able to focus on your work better when your mind is free of stress and frustration. Headspace is a meditating app that helps you to keep your mind healthy and bring a balance to your hectic lifestyle when you're travelling from place to place.
Online work can be more draining for the mind than traditionally expected. This app offers guided meditation to help you release this built up stress, thus increasing overall productivity and creativity.
Android Play Store Rating: 4.4/5
Apple App Store Rating: 4.9/5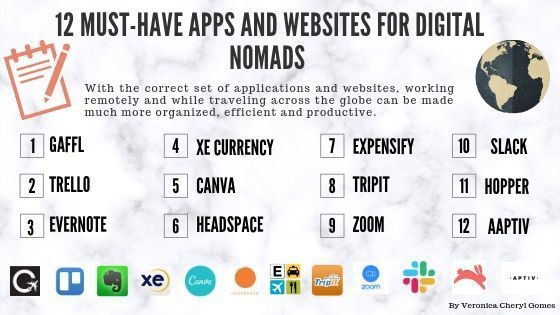 Expensify
Managing expenses can be an added hassle for digital nomads on the go. This is where Expensify comes to rescue in terms of money management and tracking receipts. Its built-in feature of categorizing receipts, business expenditures and personal transactions is very useful for organizing your daily expenses and helps you to become financially smarter.
The app can also automatically convert monetary details from pictures of receipts into digital form, eliminating the inconvenience of typing in the numbers manually. Being available across both Android and iOS operating system platforms is an additional advantage of this app, increasing its practicality among users.
Android Play Store Rating: 4.1/5
Apple App Store Rating: 4.7/5
TripIt
Being a digital nomad means that you often have to travel from place to place. An unorganized trip will negatively affect both the efficiency and productivity of your work. TripIt is a travel planning app which helps to organize and compartmentalize your travel plans and enables you to create a detailed itinerary, ensuring that your trip goes smoothly.
The app also allows you to sync your plans with your calendar, keeping you up to date and on top of your agenda. If needed, you can also share your plans with your team members or supervisor through TripIt. This is also available for Android and iOS devices.
Android Play Store Rating: 4.4/5
Apple App Store Rating: 4.8/5
Zoom Cloud Meetings
As a digital nomad, virtual meetings are a regular affair, and Zoom is a great app for free instant messaging and high-quality video calls.
It allows you to engage in video conferences with up to 100 people and has the feature of screen sharing for collaboration purposes with team members. Since the app is available on almost all operating systems (Android, Mac, iOS, Windows, etc.), it makes it easier to communicate among all types of device users. Effective communication is key to the success of a project and Zoom facilitates this process through its various well-developed features.
Android Play Store Rating: 4.5/5
Apple App Store Rating: 4.7/5
Slack
Slack is a leading app for effective team communications and collaborations. It allows you to organize and categories your conversations, making group projects easier to navigate and work through.
The app also has customizable notifications, allowing you to prioritize tasks according to your needs. You can share documents and collaborate on projects with ease using this app, enabling you to stay on top of your work and monitor progress. Slack is an essential if you are working as a digital nomad, since it is more efficient and versatile than regular emails. As it is available on all devices, you can work from anywhere at any time!
Android Play Store Rating: 4.4/5
Apple App Store Rating: 4.2/5
Hopper
Being a digital nomad means you will have to travel frequently between different places and the cost of flights can add up to a hefty amount on your list of expenses. Therefore, the app, Hopper, will help you to find the best deal on your flight plans, helping you save up for your next trip. The extra money saved might also allow you to indulge in a luxury to make your work more comfortable and productive.
Hopper is designed to analytically use a database of information to cross reference days of the week with the amount of bookings to accurately predict the dates on which flights prices are expected to decrease. In this way, it allows you to book the cheapest flight to your destination.
Android Play Store Rating: 4.5/5
Apple App Store Rating: 4.9/5
Aaptiv
Staying fit is necessary to lead a healthy lifestyle. However, digital nomads often find themselves giving little to no time for exercising as they are always on the move from one place to another.
Aaptiv is a great app for helping you form and maintain an exercise routine best suited for your needs from the app's diverse collection of workouts. The instructions are provided in audio format and are simple enough to understand and follow through. Although it will cost you only $14.99 per month in subscription fees, it is still less than a gym membership, much more tailored to your preferences and you can use it from anywhere in the world.
There is a free trial period of one month, so you can also give it a try before committing to the app.
Android Play Store Rating: 3.6/5
Apple App Store Rating: 4.7/5
These apps and websites have become essential for digital nomads to keep their work, fitness and life more organized, productive and comfortable while they're on the move. Share your experiences with these apps and websites, and suggest your favorite one in the comments below!
Additionally, if you want to connect with travelers in locals from all around the world, click on the links below!