Jordan and Tia are adventure photographers and travel enthusiasts. Together they are 75Vibes, a couple on a van life journey around Australia, in their 1975 VW Kombi, Stella, accompanied by their cute little puppy, Zenna.
Why We Decided To Travel Around Australia


When we met back in 2015, we camped in the sand dunes of Western Australia. In the following months, we spent every weekend possible exploring different beaches from Margaret River to Lancelin.
From then, we never stopped looking for the next place to sleep under the stars. It was our passion for exploring the outdoors which brought us together. So, buying Stella and road-tripping Australia was a natural progression for us and our journey.
All About Stella


We found Stella after becoming obsessed with vintage Kombi's back in 2017. The photos taken by summerofseventyfive and elisecook showed us how beautiful life can truly be on the road.
We decided we didn't want to just see places. We wanted to experience each place with the best vibes possible and Stella offered more vibes we could have imagined.
Stella was AUD $20k when we purchased her, and we fully renovated her ourselves. We spent a further AUD $11k to replace the engine and build out the inside. It was a huge job that took us almost an entire year.
On the interior, we installed a queen-sized rock'n roll bed, linen curtains, and a pull-out kitchen/ bench. We made our own cupboards and shelving to store all our clothes and belongings. Then we decorated Stella with a boho feel which we love.
On the exterior, we installed our roof rack, a roo bar, and spare tyre holder. Then mechanically we had our original 2L engine completely rebuilt and new suspension and tyres installed.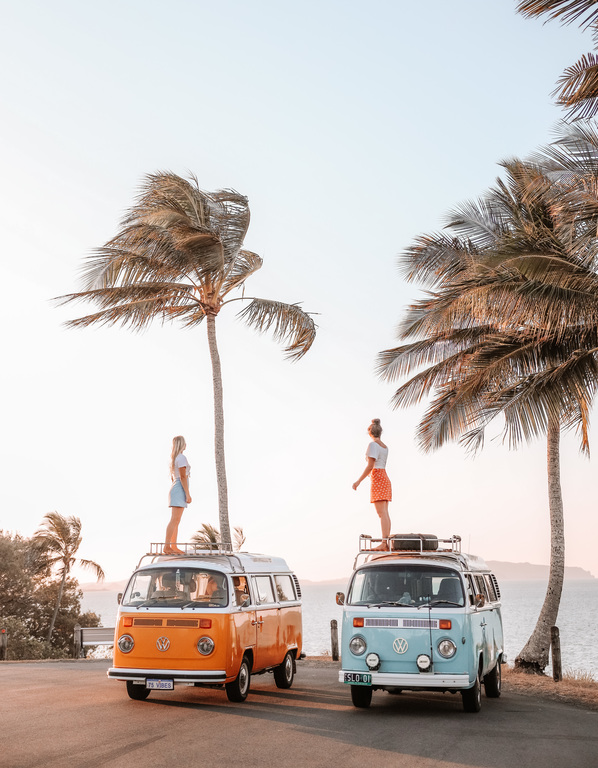 We have broken down a lot and have been towed too many times to count but the worst one came last November in Mackay, Queensland.
We had journeyed through the hills of the Atherton Tablelands and were heading south to Airlie Beach. As we came through Mackay our engine was coughing and backfiring so bad Stella completely stopped. There was no compression to accelerate further and we knew we needed help.
Sitting in the rain by the side of the Freeway we reached out to friends who lived close by. It was amazing how much help we received from all.kombi.adventures and her family. Bonnie has a 1974 Kombi called Clyde.
We had met Bonnie in Esperance earlier in 2020 and Bonnie's family lived locally in town. So, before we knew it, we had a place to stay, a hot meal, and her dad and brother had their head under the hood.
It was a week later when parts arrived that we took off again after two new gaskets, a new coil, a service, and a brand-new automatic ignition. Stella has not missed a beat since, and we learned so much during our time broken down with Bonnie.
Our Plan


Originally, we planned to loop the South coast of Australia from Shark Bay, WA across the Nullabor to The Great Ocean Road. We knew we could then jump on the Spirit of Australia over to Tassie.
However, due to COVID19 many state borders closed in April 2020 and once we had finished our Western Australia itinerary we were stopped at the South Australian border.
We made the decision to head from Esperance WA, directly to Byron Bay. A 3,500km drive which took us eight days. One day we will make it back down to the Great Ocean Road and Tasmania.
Instead, we did a road trip from Byron Bay up to The Daintree Rainforest in far North Queensland. A four-month journey which we took very slowly.
In the kombi, we don't move as fast as anyone else. If you asked any of our buddies on the road, they would tell you we are super slow. Once we find a spot we like, we stop and fully enjoy it.
We often decide on the next spot to visit by checking out photos on Pinterest or Instagram. So many people have beautiful photos and blogs which is our main source of inspiration when travelling.
Items That We Have To Carry


Our travels have taken us to some remote areas across Australia. Packing well is super important to having a successful trip and over time we have mastered the use of space in our van.
One item we always carry with us is a micro-fiber towel. We are in the ocean most days and our towels have to be compact, absorbent, and quick dry. Otherwise, we get a wet, damp smell inside the van which is not pleasant.
Our other must-have items – insulated water bottles. We each like to have good clean water available so we carry our hydro flasks with us everywhere. We recently began using a product called Purinize which is a drop that cleans any bugs out of our drinking water. We love how it makes our water taste as well.