Since childhood, Nicoletta has felt the desire to travel and learn new languages to get to know other cultures and create her own picture of the world around her. Travelling has changed her life so much - it has made her more independent, fearless, open-minded, and empathetic. Nicoletta's main travel style is solo travel (sometimes with a friend), exploring a country in-depth, seeing the most out of it, learning how people live there, and experiencing the ways they think. To have a better travel experience, she loves to learn a language spoken in that country to feel more integrated into the environment. She also likes to meet up with locals to hear their stories and learn something new from them. Out of all these interests and passions, Nicoletta has created a little business - Voices of Travel, where she designs travel itineraries and helps her community learn a language for travel to have similar travel experiences around the world.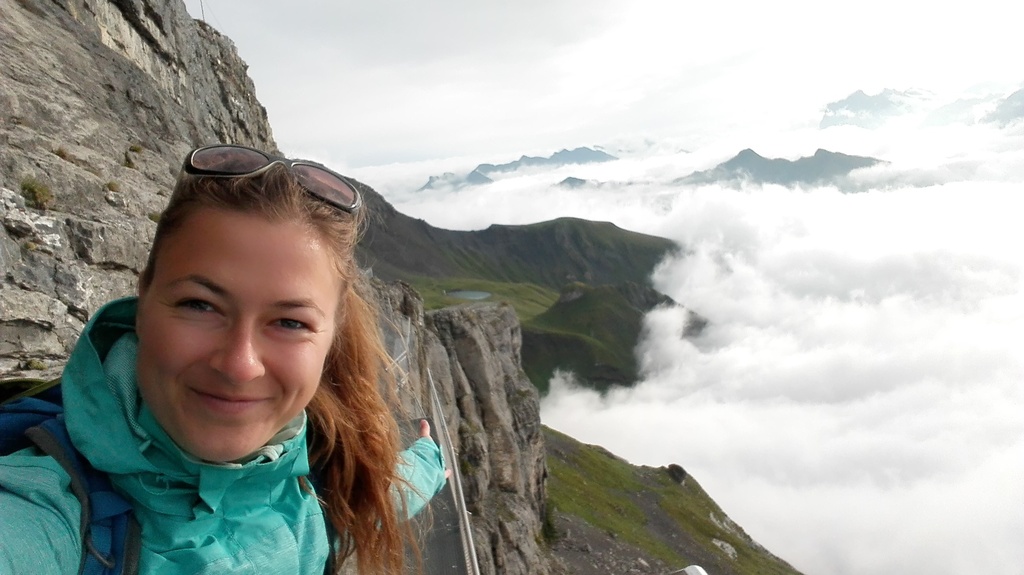 How I Was Inspired To Travel Around Switzerland
Switzerland was always on my list, mainly because of its natural beauty. I love nature and outdoor activities, and Switzerland is a perfect place for it. Before going to Switzerland, I worked in a regular job, felt trapped and overwhelmed, trying to figure out what I wanted to do in my life.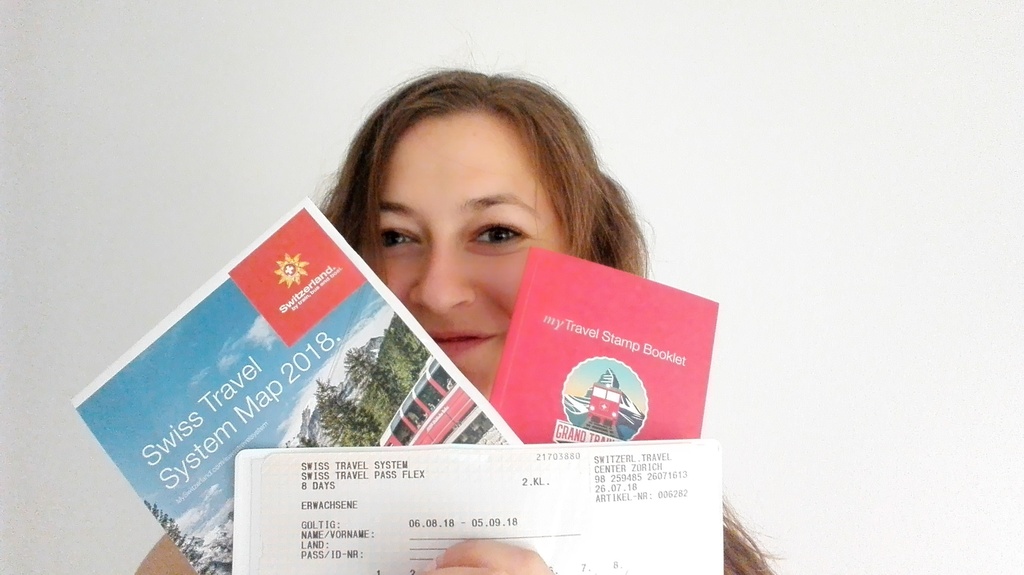 I knew I needed a change, so I packed my backpack and left for Switzerland to stay on a remote mountain farm for two weeks to calm down and clear my mind. After my farm stay, where I was making cheese with a Swiss family, I stayed for an additional ten days and traveled through the entire country, exploring the highlights. Before I worked for a tour operator, designing itineraries (some of them also through Switzerland), so I knew the destinations from websites and recommendations, but not from my own experience. Therefore, I designed a little Swiss itinerary for myself to finally experience the Swiss beauty.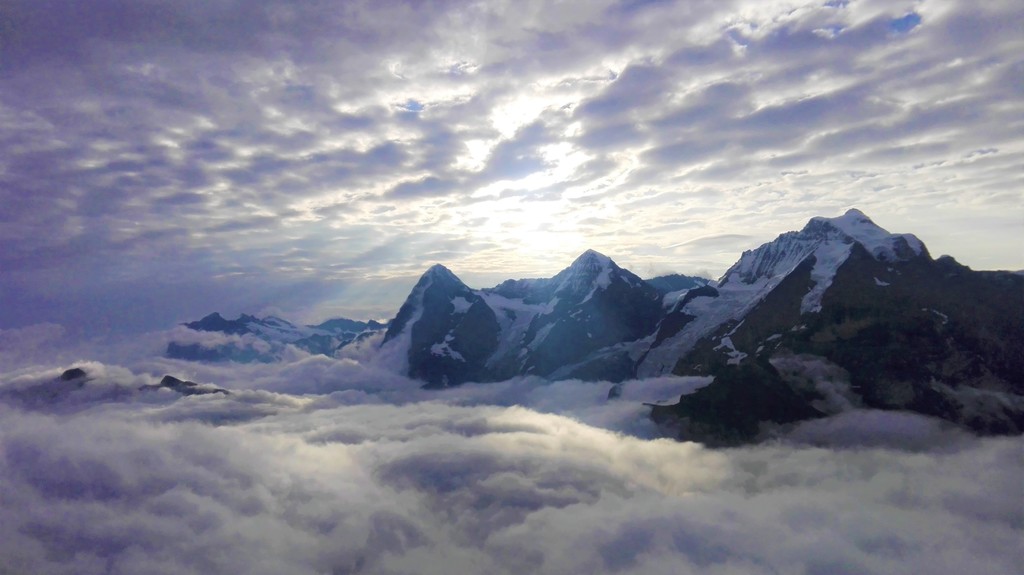 How I Planned For The Trip
I planned the entire journey one month in advance. My itinerary was based on the train schedule and the Swiss Travel Pass, which I booked for eight days, so I planned my itinerary strategically to see as much of Switzerland as possible using its railway system and get the most from its nature.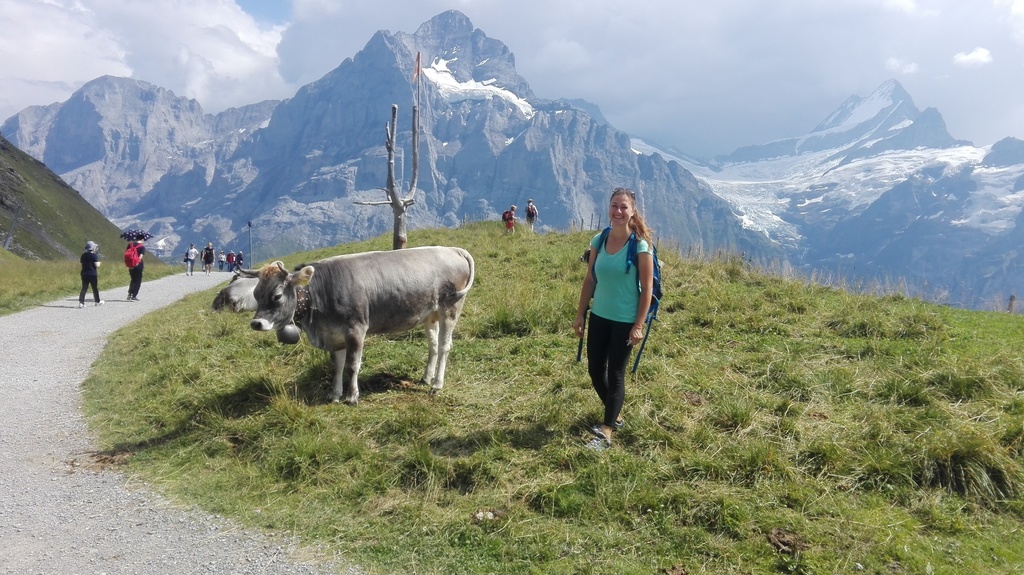 From my point of view, the Swiss Travel Pass is the best way to travel through Switzerland. Once you get it, you can use it for train travel, busses, all the boats, and even for some cable cars and mountain excursions (like for example to Schilthorn). Additionally, you get a lot of discounts for other things like outdoor activities. I knew that I could use the trains and local transportation for eight days. So I either decided to travel within one day to many interesting destinations. Or I didn't use the Swiss Travel Pass, stayed in one destination (where I didn't need to travel), and enjoyed the entire day hiking. As for accommodation, I mainly stayed in hostels and Airbnbs, because Switzerland is not the cheapest country, but it can perfectly fit your budget if you have the know-how.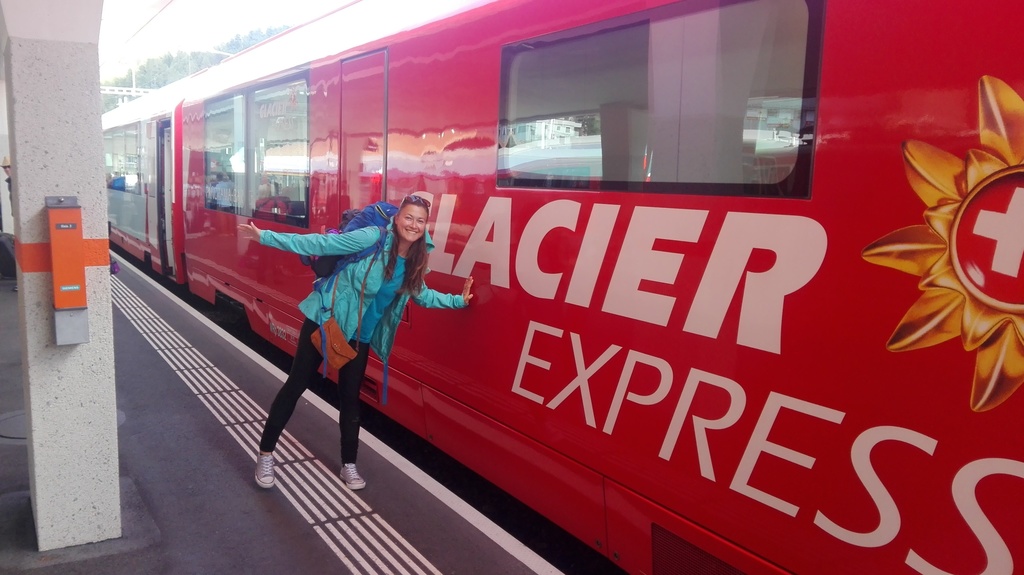 Packing List
I packed a mixture of clothes for city sightseeing and mountain adventures. I never take many clothes and things with me on my trips, as I like to go backpacking. It enables me to see more places. I do not have to leave my stuff in accommodation and think about coming back to pick it up. Instead, I can carry it with me all the time, which gives me more flexibility and freedom. For my Switzerland itinerary, I packed one pair of jeans and 2x T-shirts to explore cities, 2x T-shirts, and a sweater with a waterproof jacket for mountain excursions and hiking. I took only 2x pairs of shoes - 1x sneakers for regular walking and 1x hiking shoes. You do not need more than that, and you are prepared for all situations, whether it is sunny, raining, or a waterfall is splashing onto your body.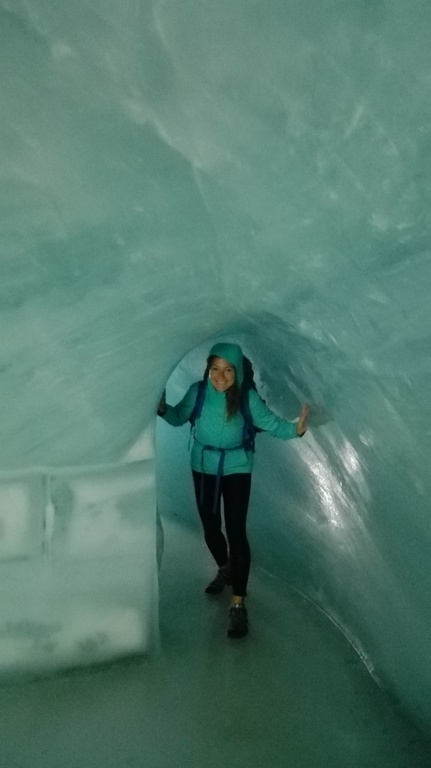 My Itinerary
I started the itinerary in Lugano because I flew from Spain (Barcelona) to Milan, from where I caught a bus directly to Lugano. On the first day, I explored Lugano and its surroundings, like San Salvatore mountain with stunning views on Lugano Lake.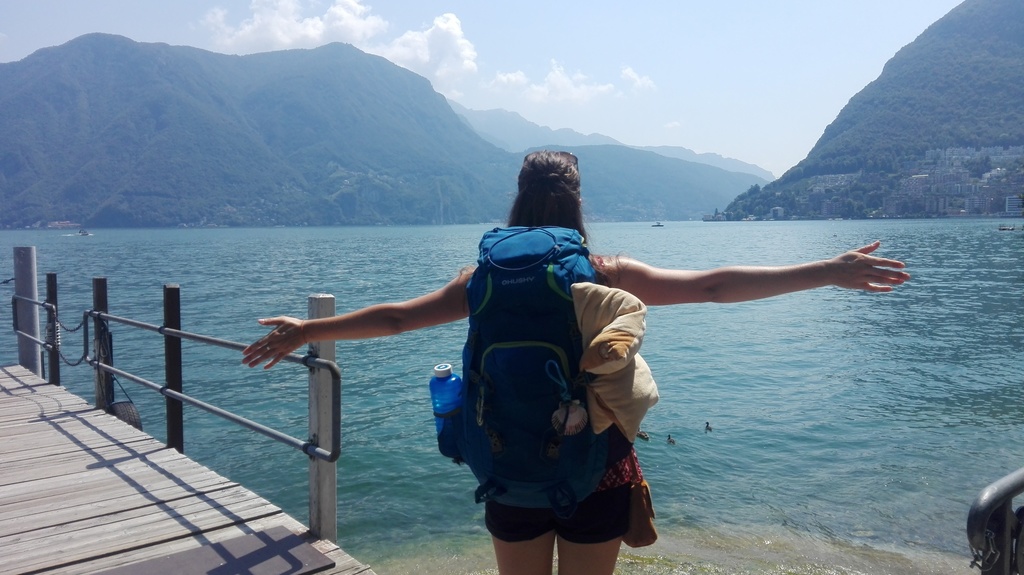 On the second day, I took a train to Bellinzona, my first stop in the morning. Bellinzona is the only Swiss town hosting a medieval military complex. I visited its three unique fortifications - Castel Grande, Montebello and Sasso Corbano. The center of Bellinzona itself is very charming. After, I hopped on a train again and traveled to Fuellen, where I took a historical steamboat to Lucerne. Then I spent the afternoon exploring Lucerne, which is, by the way, my favorite Swiss city.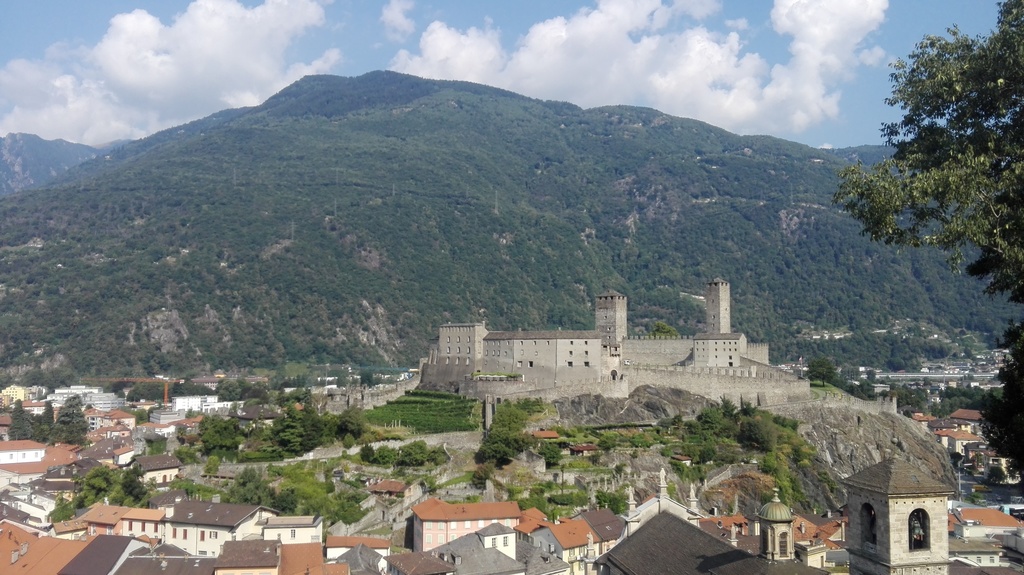 The next day was all about a big adventure. I took a train from Lucerne to Brienz, from where I changed to a Swiss boat. For about 2 hours, I was floating on Brienz Lake until we reached Interlaken. From Interlaken, I took a train straight to a fairy-tale village, Grindelwald. Immediately after I stepped a foot outside of the train and the Swiss breeze blew to my face, I felt like I was at home. Grindelwald is a special place you have to visit. I went up with a cable car to the mountains - Grindelwald First, where my adventure started.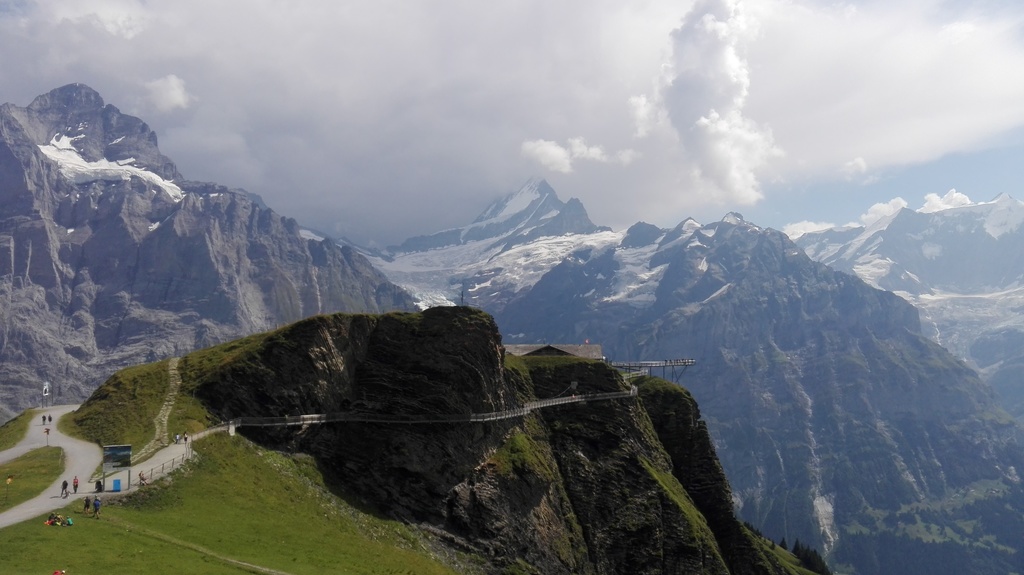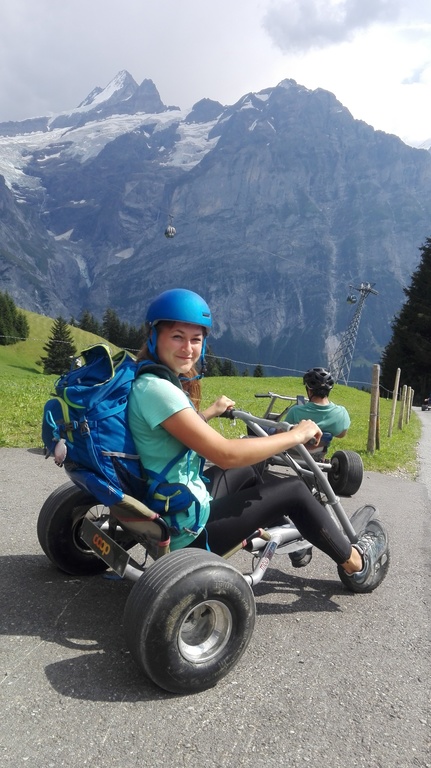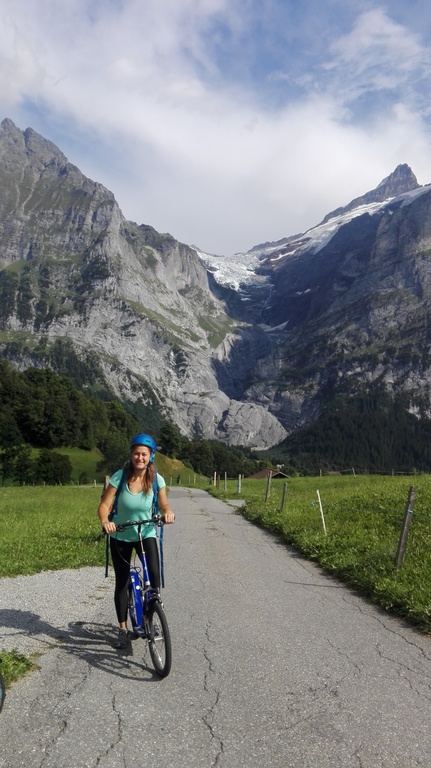 Walking on a cliff walk, starring at the Eiger mountain, flying above the Swiss mountains on the First and Flyer Glider, enjoying the hike to Bachalp Lake, and driving a mountain cart and a Trotti Bike down the valley were activities that fully captured me on that day. I spent the night in a quiet hostel in Brienz on the lakeshore.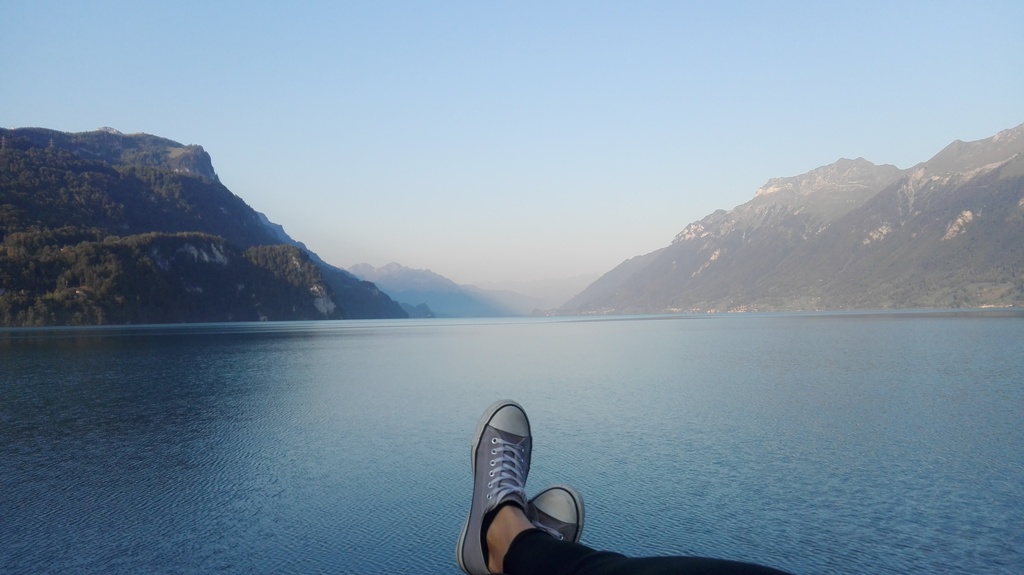 I then spent the next two days exploring the fantastic Jungfrau region. On day 4, I visited Jungfraujoch - Top of Europe. Usually, I am not eager to do that touristy and commercial stuff while traveling, but the excursion to Jungfraujoch surprised me. Despite being touristy, it was a memorable experience, being surrounded by the glacier, walking through an ice cave, and hiking alongside the Jungfrau Pass to a remote Moench chalet with spectacular views.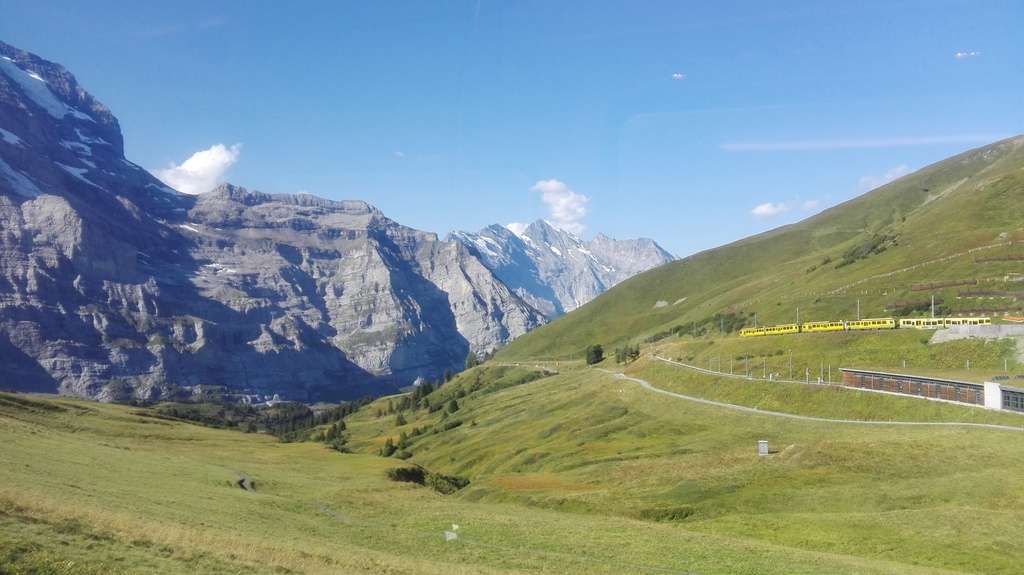 In the afternoon, the same train took me back to Lauterbrunnen, where I immersed myself into the valley of 72 waterfalls. I got the chance to see Truemmelbach Falls and taste local cheese and yogurt.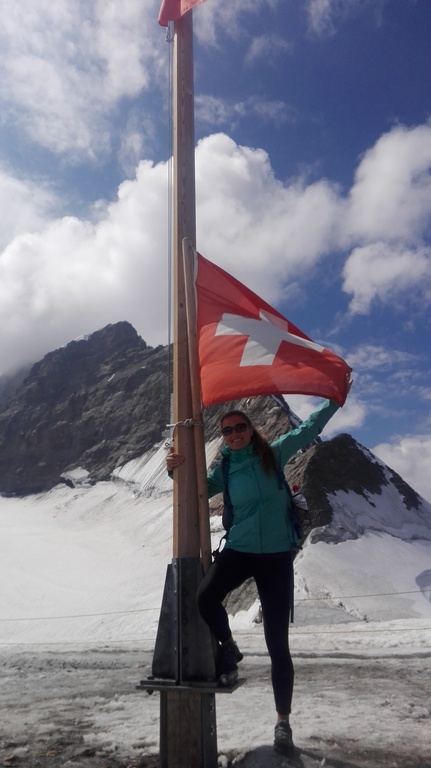 Sometimes, you have to be flexible with your itinerary, especially in the Swiss mountains, where the weather is unpredictable. My excursion on day 5 was entirely dependent on the weather. Unfortunately, the weather forecast did not say good news for that day, and many people told me I should not do it. However, I felt like I just had to go. So I woke up early in the morning, and before 7:00 am, I took a train from Interlaken to Lauterbrunnen, from where I took a cable car up to Brig station.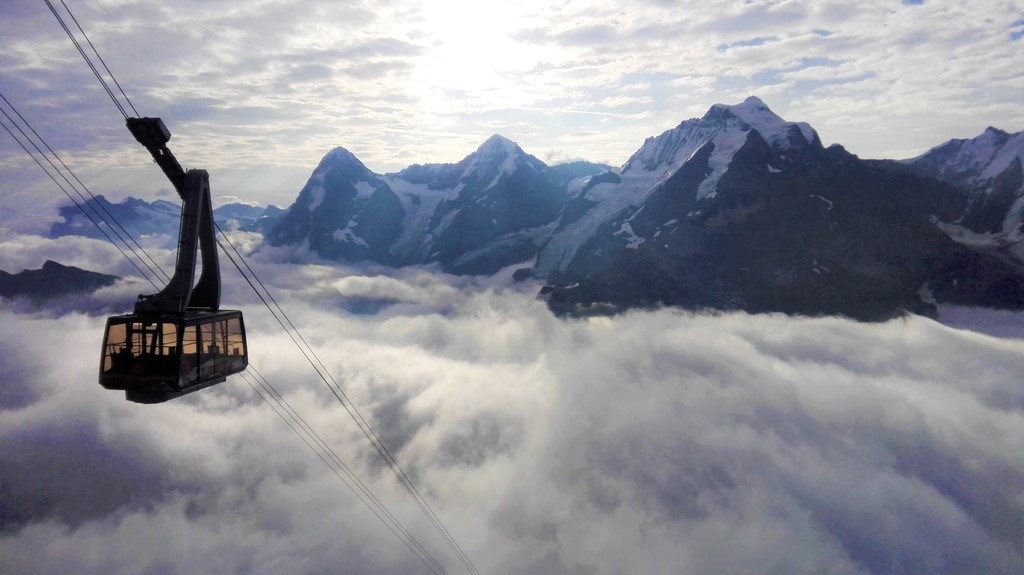 It was pretty cloudy everywhere, and I still wasn't sure about my decision. But once I reached Brig station, I was blown away. Suddenly, I was standing on the mountain, looking at the stunning mountain peaks around me, and below was just a sea of clouds. I couldn't believe my eyes. I felt like I was in a different world. Brig has a great thrill walk on the mountainside, so I walked through. Below were just clouds, and it felt so unique. Then I took the last cable car up to Schilthorn mountain where I enjoyed more views and saw the James Bond exhibition. In the afternoon, it was time to leave the mountain for a while. I took a train from Lauterbrunnen to Interlaken, where I changed on a train to Zweisimmen, from where I took my first Swiss scenic train down to Montreux. Switzerland has excellent panoramic trains, and I took the GoldenPass scenic train right to Montreux.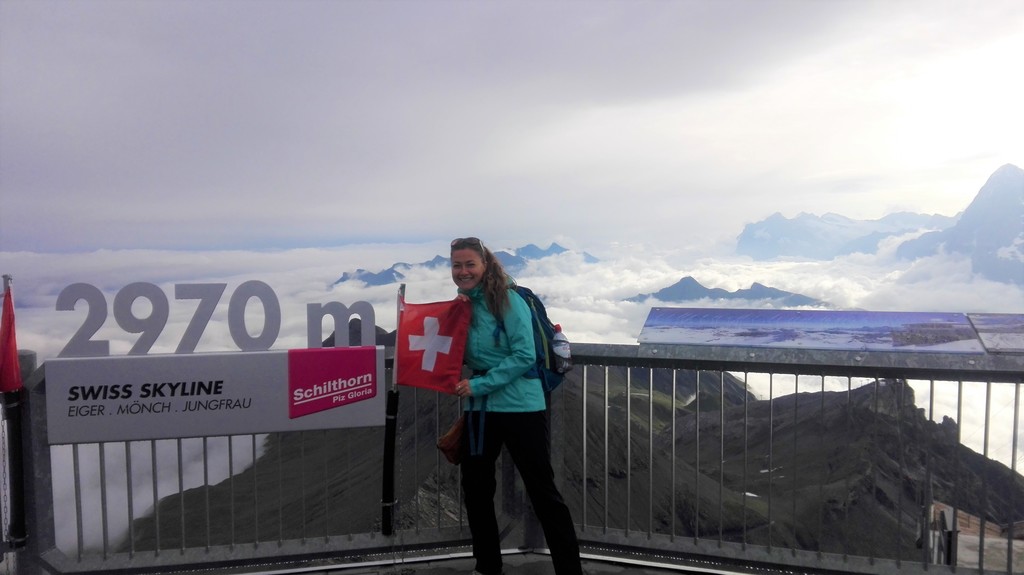 Day 6 was full of exploring the Jazz town of Montreux and visiting the famous Chillon Castle on Geneva Lake's shores. I took some time to walk on the promenade from Chillon back to Montreux and immersed myself in the spectacular atmosphere of Lake Geneva and its sights. I then spent the second half of the day traveling to the car-free village, Zermatt.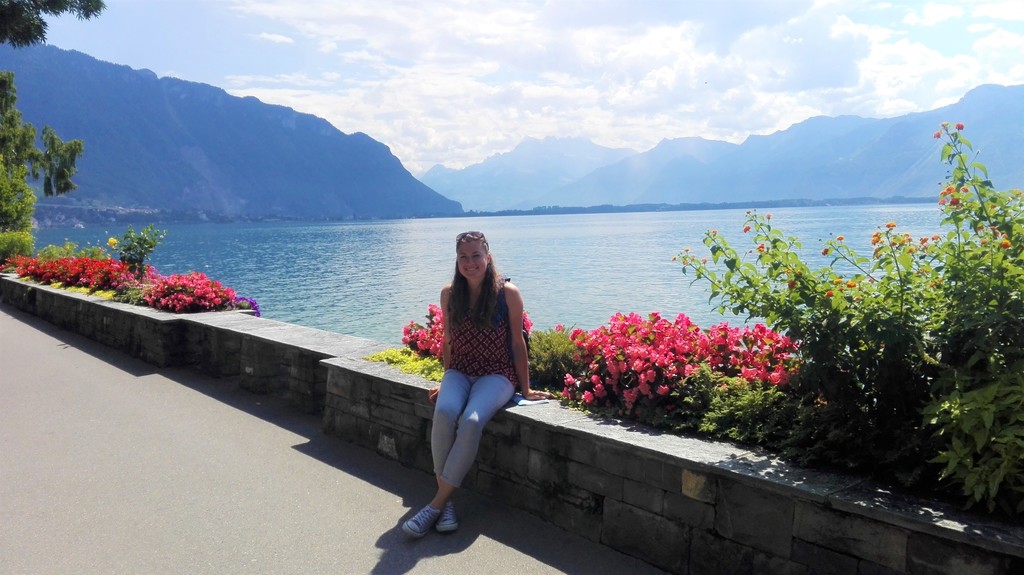 On day 7, I took a break from train travel and made the most from hiking trails around Zermatt. I decided to do the 4 Lake Hike, which took me about 3:30 hours with an additional half-an-hour sitting on the grass and staring at Matterhorn. Zermatt is just another impressive Swiss village that you have to experience yourself. I spent the evening walking through Zermatt and didn't put my eyes off Matterhorn until the stars and moon started to shine on it.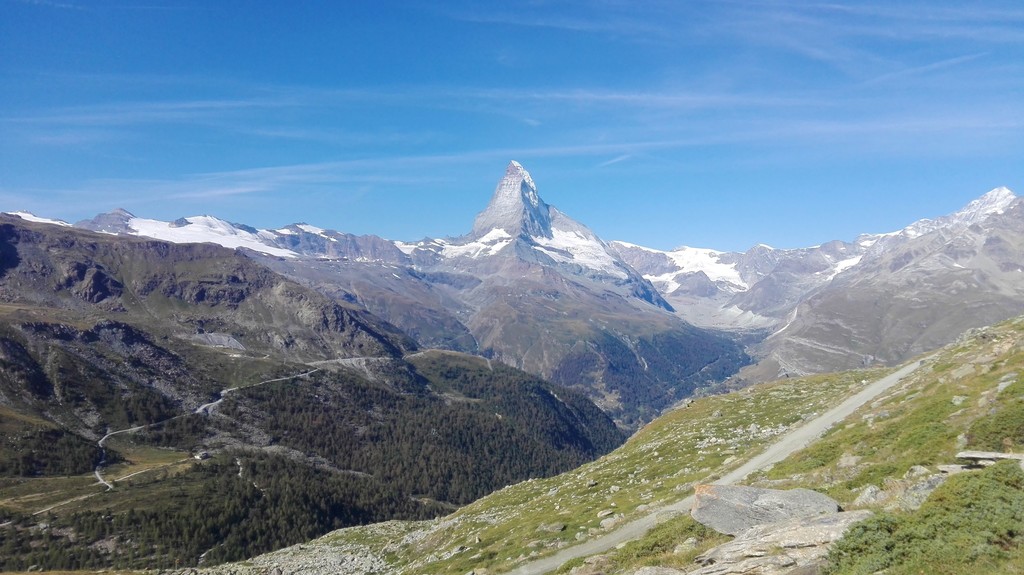 What a good idea it was to have a break from train travel. Because the next day was just about it. In the morning, I hopped on the Glacier Express, one of the most popular scenic trains in all of Switzerland, and did the whole route from Zermatt down to St. Moritz. The entire journey took slightly more than 8 hours, and no, I did not get bored :D. I was constantly looking at the beauty through a window, learning about the sights and the places' history from speakers on the train. Highlights were Andermatt village, Oberalp Pass, Swiss Grand Canyon, the Landwasser Viaduct, and much more. Once I reached St. Moritz, I stretched my legs and enjoyed the walk around St. Moritz Lake. Then I traveled with the Rhaetian Railway to a tiny village, Sent, where I booked Airbnb for the night.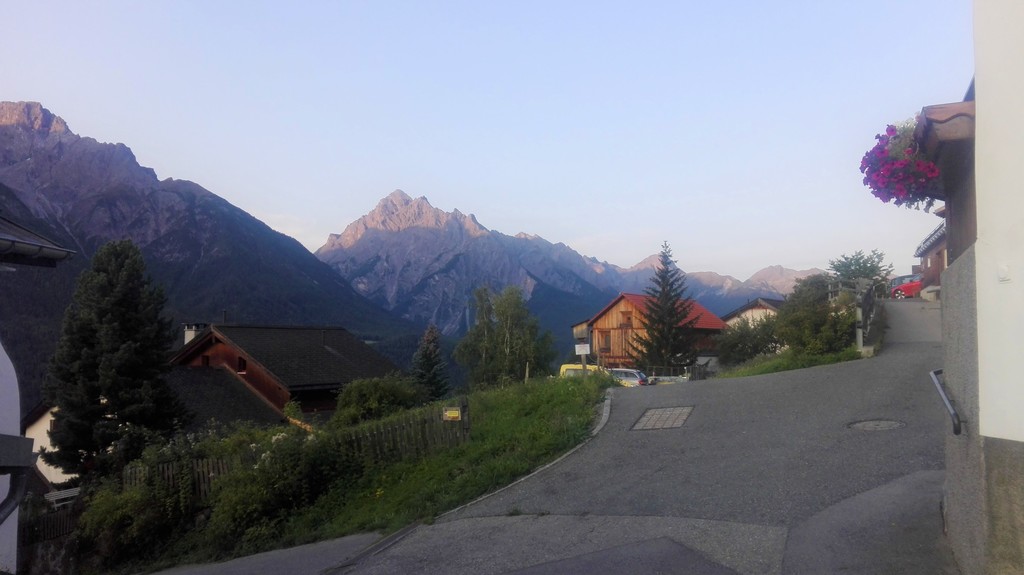 I arrived in Sent pretty late, and I already felt it was another unique place. Right the next day in the morning, it was time for a short walk through the village. I felt the local Romansch atmosphere (one of the Swiss cultures with its own official language) and went to a local bakery to try freshly baked pastry and bread. After, I left my Airbnb, which was amazing, by the way, and set off to Chur, Switzerland's oldest city. In the afternoon, I traveled to St. Gallen, where I stayed for the night.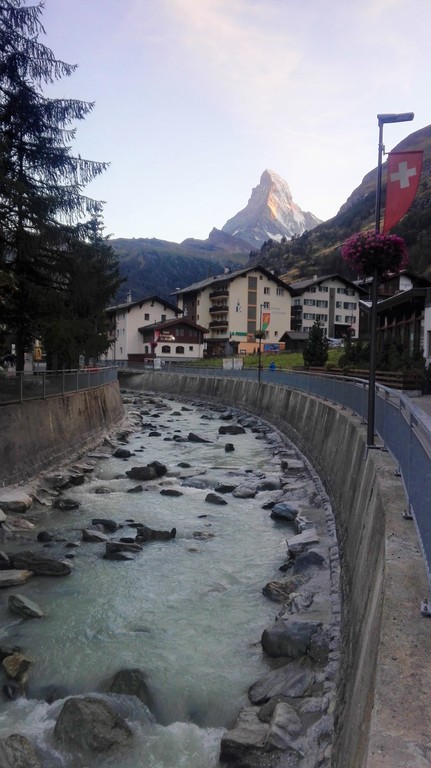 On the last day of my Swiss itinerary, I decided to visit the largest waterfalls in Europe - Rhine Falls. In the morning, I took some time to explore the historic center of St. Gallen and its Abbey, which has been declared a UNESCO World Heritage Site, and then I headed towards Schaffhausen to see the spectacular Rhine Falls. I ended my Swiss journey in Zurich, a perfect starting or/and finishing point for your Swiss itinerary since you have connections to other countries from the city.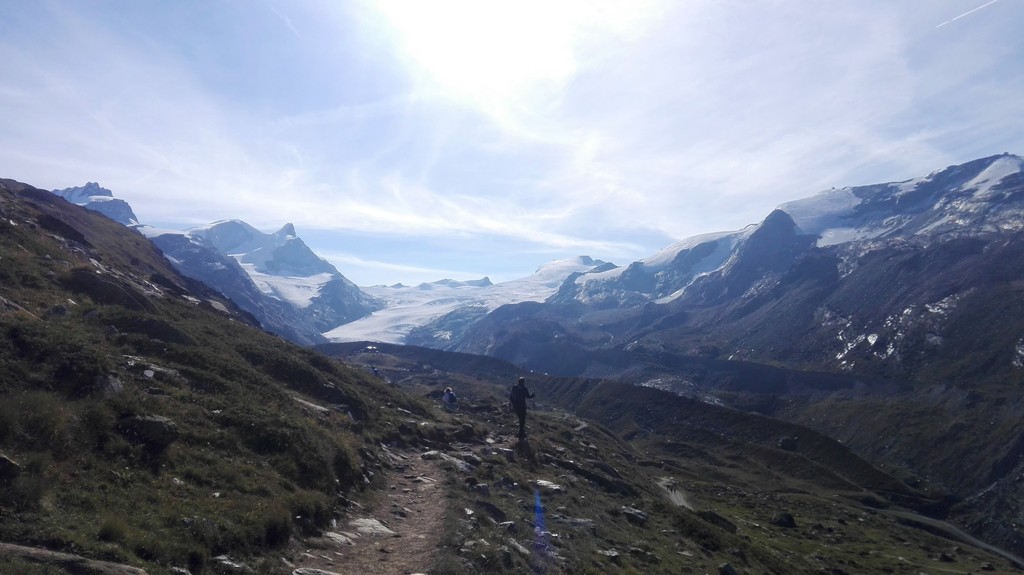 I spent ten full days exploring Switzerland. Well, but let's be honest, you can spend a month in any country, and it might feel like you still need some time :D. But you cannot always afford it. Those ten days were perfect for Switzerland, and I would not change any decision I made for my Swiss itinerary. It was enough time to see most of it.