Maurine is initially from France but she came to Canada to get her Masters in Engineering in Renewable Energies. She's been living there for 3 years now and is currently in Montreal where she works as an engineer for a Marine renewable energy company.
Her main objective and passion in life is to travel, and before settling into her new career, she wanted to go on a trip with the free time she had left. So she decided to take her first solo trip to Iceland for 3 weeks. For more of Maurine's adventures be sure to follow her on Instagram.
What Inspired Me To Travel To Iceland & Do The Ring Road
I always want to travel and discover new countries. Lately, I have been attracted to the incredible and wild Scandinavian landscapes and Viking culture. Iceland was such a mysterious country to me, and perfect for hiking with breathtaking views, and it's right between Canada and France; I live in Canada but am from France and my parents still live there. So when I finished my studies, and had some time to travel before starting to work, I used it to visit my parents and went to Iceland next before coming back to Canada.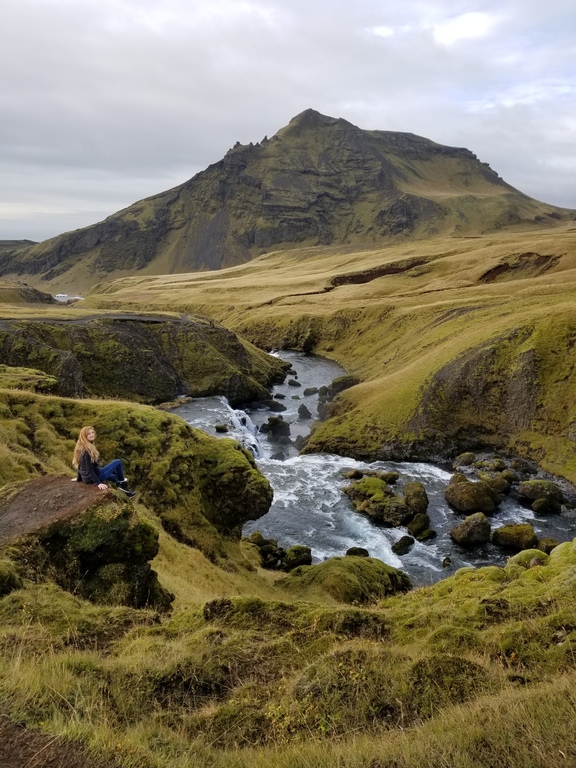 Regarding the choice of a road trip around Iceland, one of my projects in life is to build my own "house on wheels" in a van, so I'm really attracted to road trips in vans! There's just so many things to see in Iceland, and I had some time, about 3 weeks, so I didn't want to just stay in one place, I had to see as much as I could and the road ring is perfect for that!
How I Planned For The Trip
It was a trip I had planned (in way too many details than I'd like to admit) for a long time, so I think I had my plane tickets about 7-8 months before my trip. About 4 months before the trip, I had booked the van, and for the first week that I was gonna spend in Reykjavik, I had booked a couple of youth hostels about 2 months in advance.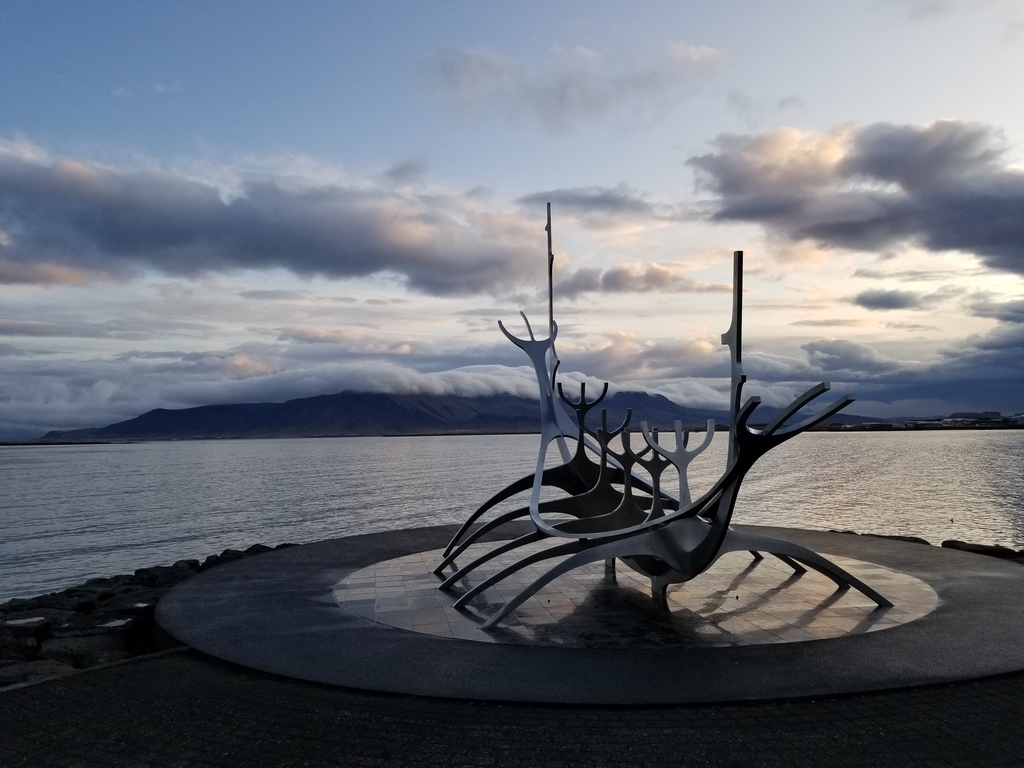 I first built my itinerary before booking the van and hostels, so that I'd know exactly how many nights I'd spend in each. For the week I spent in Reykjavik, I booked a couple of tours that were close by so that I would save on the van booking costs: I booked a Golden circle tour, a dive in Silfra fissure, and a whale watch tour. Again, those tours I booked a couple months before the trip.
What I Packed For The Trip
Warm leggings, warm sweaters, and a very warm sleeping bag! As I went there in October, I needed some warm clothes, but I also needed everything to be pretty light since my trip was 3 weeks long and needed to fit in a (quite big) travel backpack. I also packed a handy Swiss knife, a journal to write down my everyday adventures. I was big on trying to save as much money as I could, since Iceland is VERY expensive and I didn't know when I would find a job when I got back to Canada afterwards, so I packed a bunch of snacks, cans and ramen noodles!
My Ring Road Itinerary
First week: visiting Reykjavik, Golden circle tour, Silfra fissure dive, whale watching tour
Here's for the following 2 weeks:
Day 1: Selfoss, Hrunalaug, Seljalandsfoss, Glufrabui, Skogafoss, Kvernufoss, Skogar, Solheimasandur plane wreck, Dyrholaey,Vik
Day 2: Reynisdrangar, Fjadragljufur, Skaftafell, Svartifoss, Hof
Day 3: Jokulsarlon, Diamond beach, Hofn (where I booked an afternoon ride on an Icelandic horse)
Day 4: Faskrudsfjordur, Neskaupstadur
Day 5: Mjoifjordur, Litlanesfoss, Hengifoss
Day 6: Srudlagil, Dettifoss, Asbyrgi, Hljodaklettar
Day 7: Dimmuborgir, Myvatn, Grjotagja, Husavik, Aedarfossar, Laugar, Godafoss, Akureyri
Day 8: Siglufjordur, Saudarkrokur, Hvitserkur, Vatnsnes peninsula
Day 9: Djupavik
Day 10: Bolungarvik, Isafjordur, Fjallfoss, Raudisandur beach, Latrabjarg, Brjanslaekur
Day 11: Kirkjufell, Snaefellsjokul, Arnastapi
Day 12: Hraunfossar, Deildartunguhver, Hvalfordur
Day 13: Glymur waterfall, Alafoss, Hrunalaug
Of my 3 weeks spent in Iceland, I spent 1 in Reykjavik and 2 on a road trip.
It was a very good length and I was able to do A LOT, and I was going pretty quickly from one place to another and not spending too much time in each spot: that was a personal choice but I can see how it could be not the best for everyone.
If you're like me and want to see as much as possible, maybe I would suggest spending a bit less than a week in Reykjavik to have a bit more time on the Ring road. But it would also be wonderful to just see a bit less than I did and spend more time on more "important" locations.
Meeting Other Travelers On The Road
I briefly met some people while I was in the youth hostels in Reykjavik. On my road trip, I met 2 Swiss guys with whom I spent a couple of days as their itinerary matched mine. It was a great time, I was travelling alone and it was nice to have some company at some point. They were photographers and had great cameras and drones, so I could enjoy their amazing eyes and shots.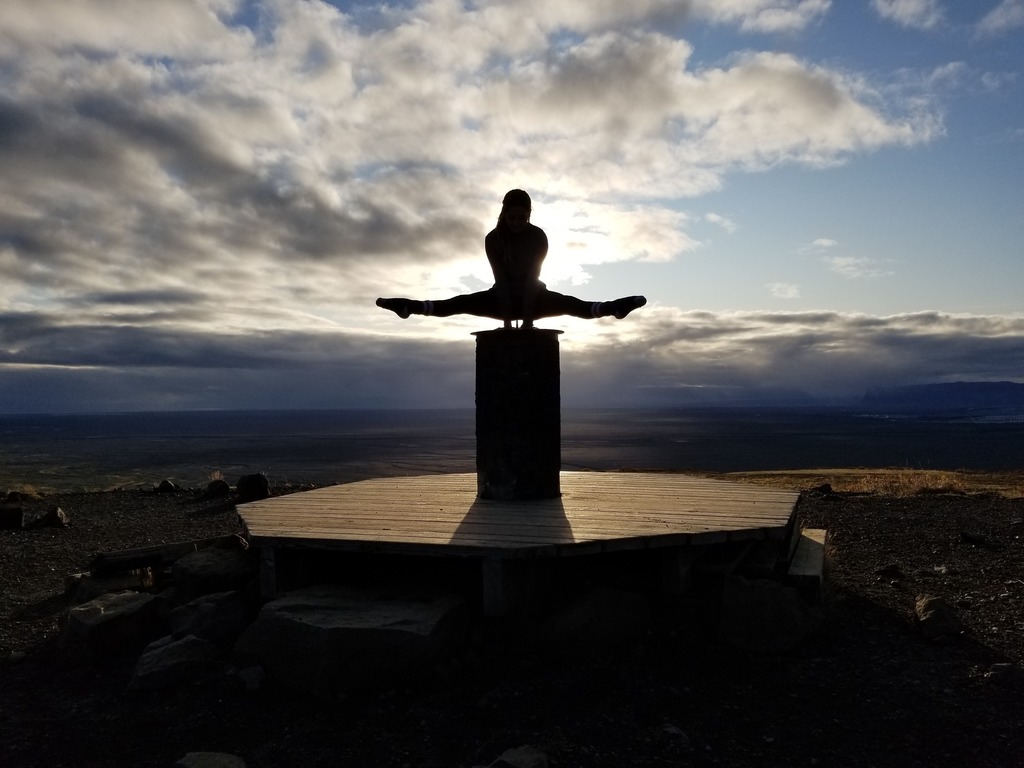 We even improvised a photoshoot at the top of one of our hikes, where I tried using some of my poor yoga skills: overall we had good laughs and great pictures! I plan to visit them in Switzerland someday, and they know they are welcome to visit me in Québec any time!