Hiking up to Everest Base Camp (EBC) in Nepal was one of my dreams in life. I got heavily sidetracked due to work stress for a few years and became a couch potato. I also looked like a potato and I thought there was no way I can climb to EBC being that unhealthy. It was normal for me to avoid all sorts of outdoor activities. I was afraid to face reality.
A mindset like that did not change overnight. I was not happy with myself. Slowly over a few weeks perhaps I was able to face the person responsible for this mess. Myself. The first step was to set a goal. The goal was to simply start exercising regularly. A friend who lived nearby was my workout partner and that helped a lot. After a few sessions, I became sick with shingles. Recovery took about 3 weeks and training was resumed shortly. In 4 months, my weight had dropped by 30 pounds (13.6 Kg). It took a few more months to slowly lose 10 more pounds (4.5 KG). It may not sound a lot for some people, but for me, it was quite a challenge.
I was feeling great and when it was time for my vacation, I was thinking of meeting up with a friend in Asia who had just started his backpacking gap year. As I was looking at possible destinations to meet him at, I thought, why not Everest Base Camp! He did not seem too excited about the idea and without being able to convince any of my friends to join me, I headed out by myself without hiring any guide or porter. Doing this trek solo does not mean you are always alone. I met people at different stops and hiked with them. Every person I met on this trek was friendly and fun to hang out with.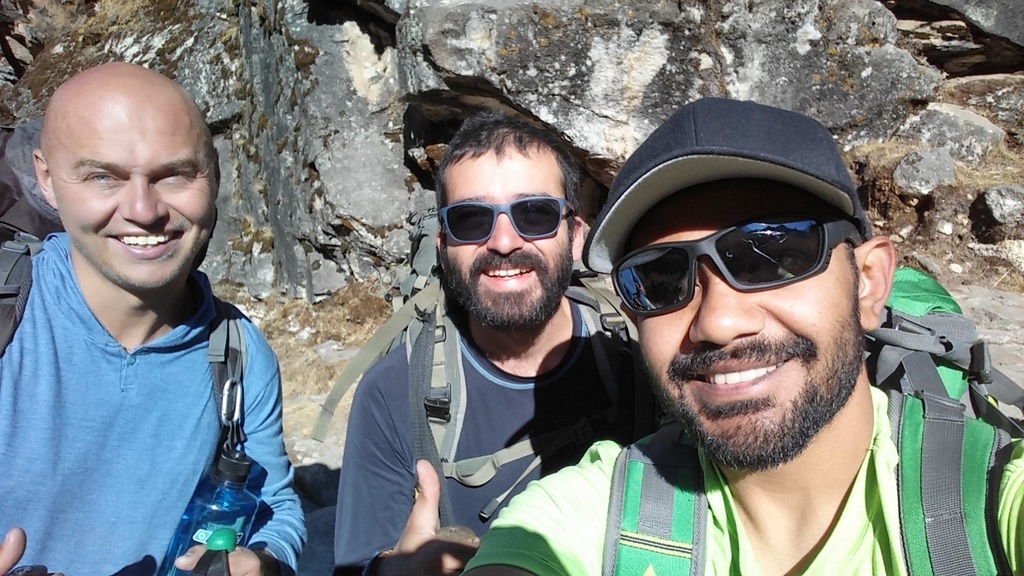 My trekking buddies for most of the trek