If you read our other free things to do posts, you know that at GAFFL we look to make touring in Australia as affordable as possible. As Sydney takes up an area of over 12,000 square kilometers, it would be pretty difficult to crowd all of our 'Must See' and ' Free Things To Do' in Sydney in one article. So, we decided to break down Sydney into a two-part series, with this first being about the top things to do in Sydney's coastal area and the following post will be about the top things to do in Sydney's Central Business District.
For the most part, this itinerary will guide you through the beaches of Sydney. You can use google maps to guide yourself as well. A straight drive through all the checkpoints will take you about 3 and a half hours.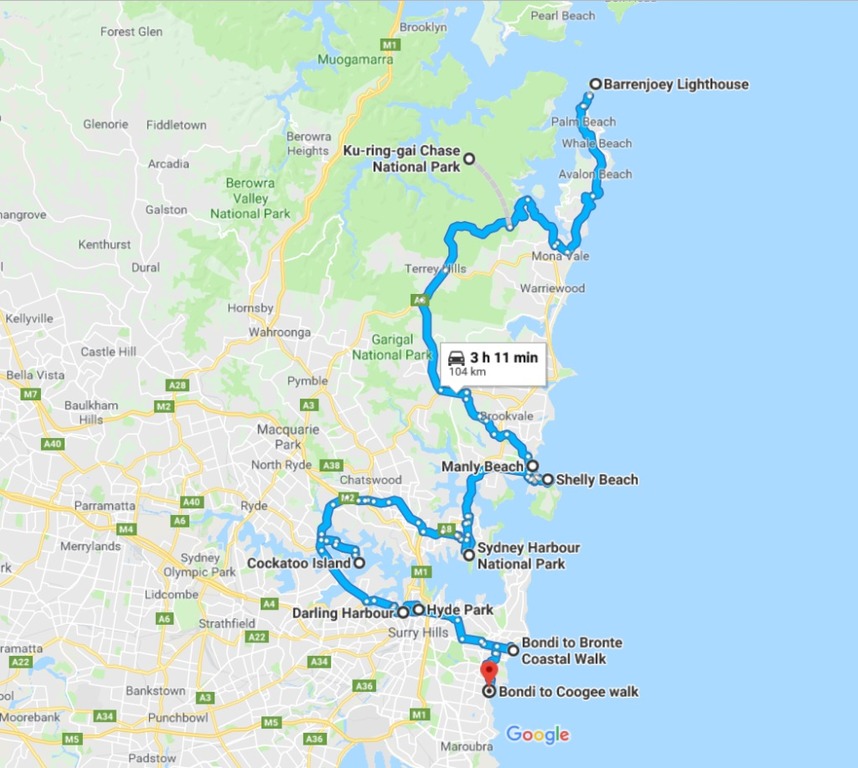 We have selected the places in order to explore the coastal area of Sydney according to the map. You can also find the itinerary in a picture format at the bottom of the page.
1. Barrenjoey Lighthouse


Photo credit: sv1ambo on Visual Hunt / CC BY
In our attempt to visit all the top free things to do in Sydney, we chose to start from Barrenjoey. Barrenjoey Lighthouse is located at the most northern point of Sydney, the Barrenjoey Headland. To reach the lighthouse we advise that you take the picturesque walk along the Barrenjoey Track. It's a small 1 km track which will take you approximately 30 minutes from the Governor car park. Before you start your walk, use a toilet because you won't find any along the track or at the lighthouse.
The lighthouse is usually closed but if you do want to look inside and explore you can do it through the guided tour, every Sunday.
You can find more about the tour here.
2. Ku-ring-gai Chase National Park


If you take a swim west from Barrenjoey, you'll reach Ku-ring-Gai sooner than driving to it. The drive will take around 45 mins via Barrenjoey Road and Mona Vale from Barrenjoey to the Ku-ring-gai council.
If you're looking for things to do in Sydney, you should know that Ku-ring- Gai Chase national park is huge. The park in itself is a separate entity to be explored. It's approximately 15,000 hectares big. This park, in truth, needs a separate itinerary. However, we do believe that there are some experiences that are essential to every Ku-ring experience.
We suggest that you take the Aboriginal walk, highlighting the rock art and engravings of the Guringai people of West Head. See the basin aboriginal art site, to remind yourself of the rich Aboriginal heritage of the region. Walk on the America Bay Walking track and ultimately take a cycle ride on the center trail to experience Ku-ring-gai to its fullest.
You can find more about Ku-ring-gai Chase National park here.
3. Manly and Shelly beach


A drive from Ku-ring-gai to Manly can be done within 40 minutes via the Mccarrs Creek Road. A 27 km drive with the usual traffic.
If watching the sunset is your cup of tea, Manly is regarded as one of the best places to do so. The sunsets are so beautiful it makes you want to wax poetic. We found ourselves saying things like "the white sand shines like pearls with the dying light of the sun here, it leaves a hue to be cherished in the memories". Like honestly, that's how it feels. To truly cherish it, we propose you take the Manly ferry. While not free, the ferry only costs $15 and it can be taken from Circular Quay to and from Manly. There are two speeds that the Manly ferry goes at. fast and regular. Take the regular one and enjoy the 30 minutes of quaint scenery. Some articles have even coined this Ferry as a quintessential Sydney experience. The boat ride will include a view of the Sydney Harbour Bridge, the Sydney Opera House, and Mrs. Macquire's Chair.
Some travelers would suggest you take the Manly to Spit walk as well. Contrarily, we want you to sit this one out if walking 10 km is not your thing.
Look out for the wormhole next to Manly, to pass through to the Queenscliff. Especially if you are looking for a secluded beach, away from the chaos.
In addition to the beaches of Shelly and Manly, we also suggest that you climb up to the Grotto point lighthouse. The structure is centuries old and the best spot for watching birds as well as migratory whales during the winter.
4. Sydney Harbour National Park


Discovering the Harbour Park comes naturally when you're in Sydney. The park shelters secluded beaches and picturesque islands. You can either take a walk along the shoreline from Bradleys Head to Chowder Bay. You can learn more about this walk here. Or take a cruise on one of the boats on the Sydney waters and enjoy watching the shore from a different perspective.
At this point you're halfway through the post, if we've inspired some travel plans then we've done our job. If you need more inspiration or if you're solo in Australia and want to find a travel partner, you can view the trip itineraries of GAFFL users in Australia and connect with travelers that are going on trips that you like.